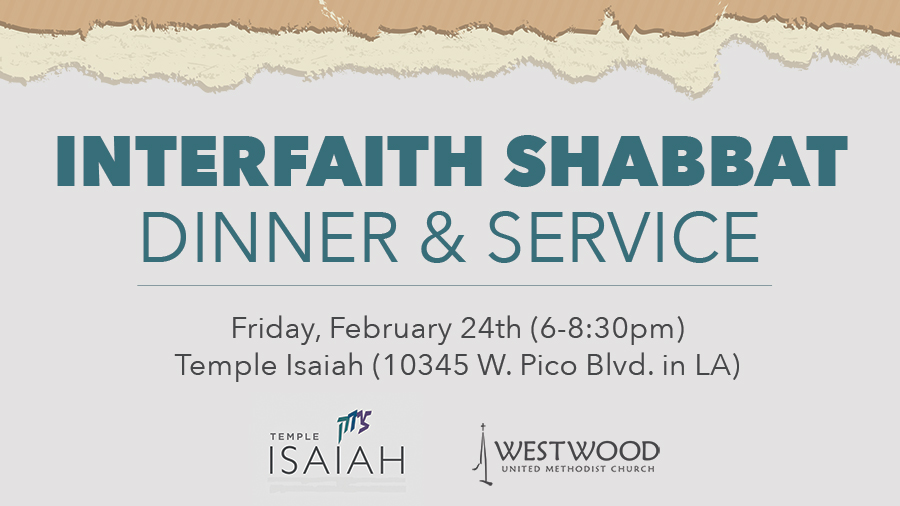 09 Feb

Interfaith Shabbat Dinner & Service

Friday, February 24th (6-8:30pm)
Temple Isaiah (10345 W Pico Blvd., LA)

Join us for a special interfaith Shabbat dinner and service at Temple Isaiah. Our communities will come together for dinner, discussion, prayer, shared musical traditions, and a conversation between Pastor Chris Spearman and Rabbi Joel Nickerson.

PARKING is across the street at the Rancho Park Golf Course (corner of Pico and Kerwood).

RSVP to Sabrina Simmons at 310.474.4511 or sabrina@westwoodumc.org.

SCHEDULE OF THE EVENING
5:30-6pm – A family-friendly, preschool/early elementary school service with music, a story, and basic Hebrew prayers.

6-7:15pm – Shabbat dinner for the entire community as well as 'Shots with the Rabbi' where Rabbi Joel Nickerson does a little teaching, and you can enjoy a little drink.

7:15-8:30pm – Shabbat services with music provided by both communities, a children's choir performance, teachings/conversation with Pastor Chris Spearman and Rabbi Joel Nickerson.

8:30pm – after service snacks for everyone and time to hang out.