25 Feb

Holy Week at Westwood
The SANCTUARY
9AM & 11AM – Traditional Easter with an inspiring message, liturgy, choir, and resounding organ.
.
The LOFT
9AM – Family-friendly Easter with music and an interactive message for kids and adults.
11AM – Innovative Easter with music and a spiritual conversation on couches over coffee.
.
CHILDCARE
9AM – Childcare available for birth through pre-k.
11AM – Childcare available for birth through 2 years old.
.
EGG HUNT & BRUNCH
10AM – Thousands of filled eggs to find! Use your own basket or one of our bags. Brunch with eggs, bacon, and pastries will be provided, and donations are welcome.
Westwood United Methodist Church is a Christian community where all people are welcome, and is focused on becoming and making disciples committed to justice, kindness and walking humbly with God. Unless noted, all gatherings are held at 10497 Wilshire Blvd. in Los Angeles, CA 90024. Click here for a map.
.
Parking: Abundant secure parking is available for all events at the church. It is located below Belmont Village, the building east of the Sanctuary. From Wilshire Blvd., use the driveway by the main steps in front of the Sanctuary and proceed under the overhang to the underground parking lot. Please observe the signs that identify which spaces are for church use. After parking, proceed to the stairwell and elevator located at the church end (west end) of the parking structure.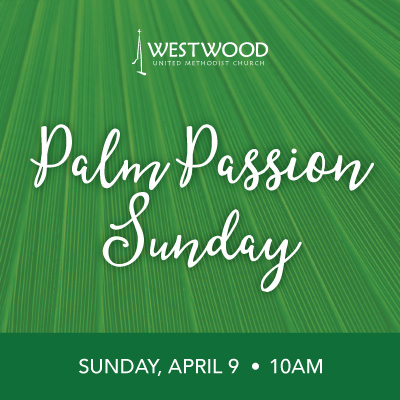 The SANCTUARY
10AM – Join us as we begin the service with the traditional Procession of the Palms and surrounding fanfare. Sights will then turn towards Holy Week as the Chancel Choir leads us in worship.
.
The LOFT
10AM – After beginning with a triumphal parade of palms from our children, we'll end with an unconventional look at the political and religious contrast of this famous story. Music and media will punctuate the presentation and conversation elements. Info: www.TheLoftLA.org
.
CHILDREN'S CHURCH
10AM – Available for infant – 5th grade each Sunday. Westwood UMC has a vibrant Sunday morning Children's Ministry. Our grade school teachers (K-5) use a station-based curriculum that allows each month's theme to stay fresh as the lessons rotate through age-appropriate components.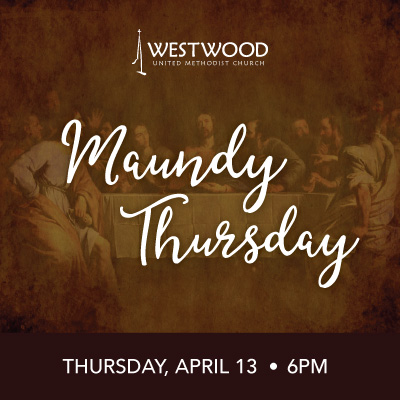 POTLUCK DINNER
6PM – Once again, St. Alban's Episcopal Church will be joining us for a joint dinner and service. Plan to bring a main dish, side dish, and/or dessert to share with others. No sign up is necessary.
.
COMMUNION SERVICE
7:30PM – Our communion service in the Sanctuary will commemorate the last night the disciples gathered with Jesus in the Upper Room. No childcare will be provided.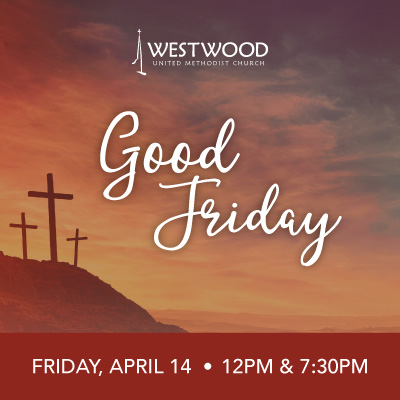 ST. ALBAN'S EPISCOPAL CHURCH
12NOON – Join us for a combined traditional service with the congregation of St. Alban's located at 580 Hilgard Avenue in Los Angeles.
.
WESTWOOD UMC
7:30PM – Join us upstairs in The Loft for an intense and reflective presentation utilizing the classic themes of light and dark. No childcare provided.