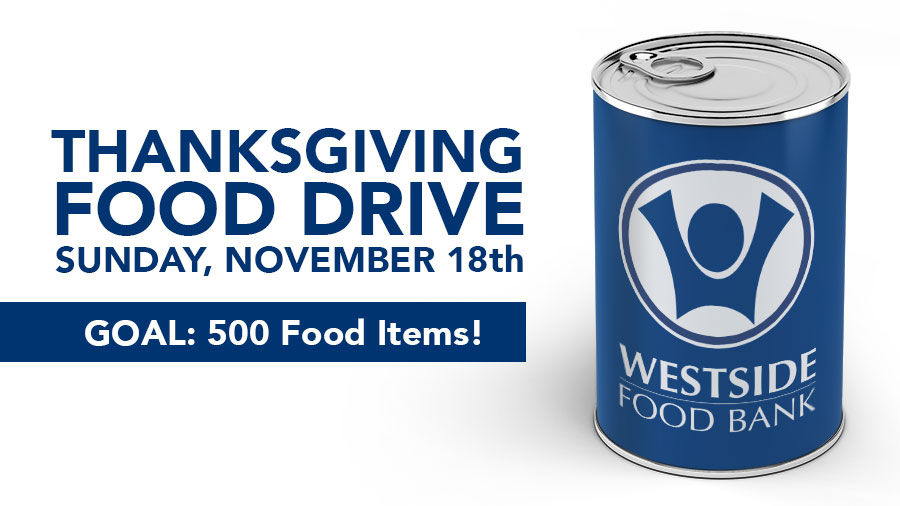 TO BENEFIT THE WESTSIDE FOOD BANK:
1. Purchase items off the list below.
2. Return the bag on Sunday, Nov. 18th.
3. Donate $15 so a family will enjoy a turkey for Thanksgiving!
CANS OF:
• Tuna, Vegetables, and Soup
• Fruits and Fruit Juices
• Pork & Beans
• Stews & Other Meats
• Canned Vegetables
PACKAGED FOODS:
• Pasta, Lentils, Pinto and other beans.
• Macaroni & Cheese & Packaged Dinners
• Instant Soups
• Hot and Cold Cereals
• Peanut Butter & other Nut Butters
• Nutritional Bars: protein, granola, energy or breakfast bars
BABY FOODS:
• Infant formula
• Jar foods – all flavors and stages
• Crackers, teething biscuits, and cookies
• Raisins & fruit snacks
• Juices: jars, cans, pouches and boxes
• Infant and children's cereals
No glass please – except for baby food. Please, no expired food. Please make sure that all food donated has not been opened if it is not individually wrapped, and that the inner packaging is still intact.